The Hometree inc. services
We Offer full services of trees, shrubs and cedar hedges maintenance.
Tree maintenance will increase your property value, your liability of life and decrease the risk of property damage and personnal safety.
Hometree, trusted by the residents of Westmount, Ville Mont-Royal, Hampstead, Notre-Dame-de-Grâce, Montréal-Ouest, Verdun, Lachine, Pointe-Claire, Beaconsfield, Baie d'Urfé, Senneville, Île Bizarre, Pierrefonds, Roxboro et Kirkland.
Precision tree felling and tree removal
We can determine what type of prunning is necessary to maintain or improve the health, appearance and safety of your trees. Proper prunning promotes healthy structually sound growth. Some examples are: Elimnating branches that rub each other. Removing dead or weak limbs and suckers. Remove diseased or insect-infested limbs. Improve tree structure.
Hometree Inc. does not support the removal of trees that are in good condition, in a suitable location, or that does not interfere with your enjoyment of your property. We are experienced in the removal of trees, hazardous trees and tress in difficult areas. We have professional experienced personnel who work safely and use modern techniques to fill a tree section by section. we have many years of experience in circumstances that require the use of a crane.Hometree is well equipped, and maintains their equipment to complete the work safely and efficiently.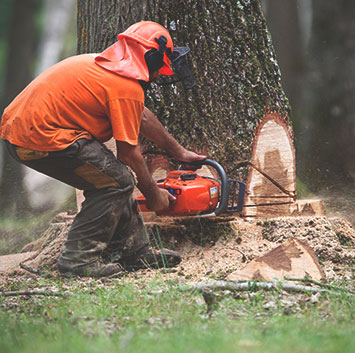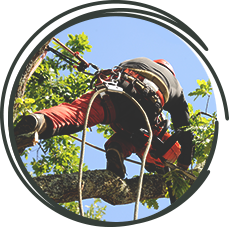 Reducing the trees overall size, not toping) is the indiscriminate cutting of tree branches to stubs or lateral branches that are not large enough to assume the terminal role. Home owners often feel that their trees have become too large for their property, and they fear that tall trees may pose a hazard. Topping will make a tree more hazardous in the long term, vulnerable to insect and disease infestations, sunburn, cankers, bark splitting, produce multiple shoots which can grow as much as 20 feet in one year, in some species and topping makes trees ugly. The height and girth of a tree can be reduced by removing certain limbs and by redirecting others
The crown of a tree is the area from the lowest branch to the top tree. When thinning the crown of a tree, selected branches are removed to promote light penetration, also air circulation and allow rain to the root system. This will promote better health of the trees, improving the shape or silhouette of the tree, and more sun and light for the property.
Also creates better structure for less wind resistance and reduces the potential for storm damage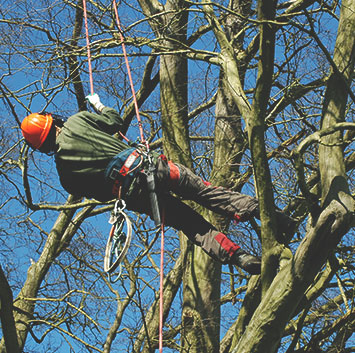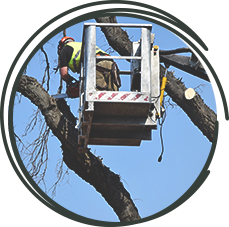 Removing certain lower limbs for security, safety, lawn mowing, swimming pool, driveway and visibility of stops signs.
Removing certain limbs for clearance of house, buildings, windows, roof, power lines, telephone and cable lines, light posts and stop signs.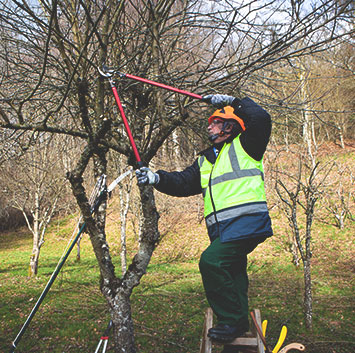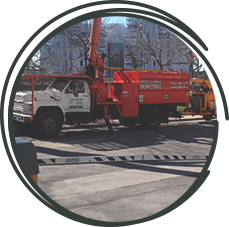 In some cases it may be beneficial for tree preservation and for security to install a non-invasive cable in the upper canopy to provide support for limbs. Tree bracing is installing rigid hardware (threaded steel rod) within parts of a tree that has already failed, such a cracked trunk or split crotch, to create the brace necessary to hold the parts together, this procedure is done in conjunction with support from above.
Tree cabling is installed for some of the following reasons, weak crotches, a canopy prone to failure during high wind and/or heavy ice, or split crotches due to storm damage.
Proper care and maintenance is the key to achieving a healthy and aesthetically pleasing looking hedge. Appropriate watering and fertilization with a professional trim will keep your investment looking great. The benefits of a cedar hedge is from privacy to sound barrier, and a substitute for a fence. It is important that shaping and trimming is started early in the life of the hedge, and then carried out regularly in order to maintain the width, shape and control the height to the desired level. Trimming encourages new fresh growth and keeps the hedge thick, Trimming will also help to keep growth at the base of the hedge where neglected hedges will " thin out" and become see trough. Trimming every second year is also an established practice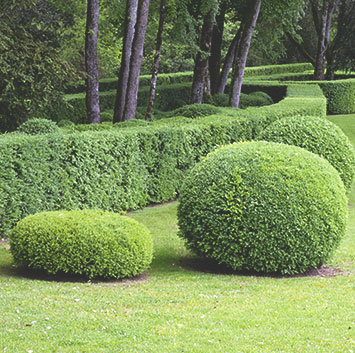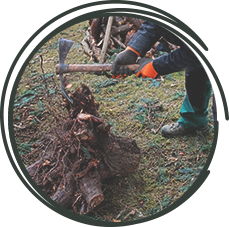 We have 2 different types of stump grinders to remove stumps and flaring roots to a depth of 12 inches to 25 inches below ground. Our smaller machine is 34.5 inches wide fits trough most backyards gates. It is the size of a large lawn tractor and weighs approximately 1100 pounds, so there is no damage to the lawn or other ares of the property. The bigger machine which is suitable for the front lawns and very large stumps, also will not damage the lawn